Nonprofit Fundraising Masterclass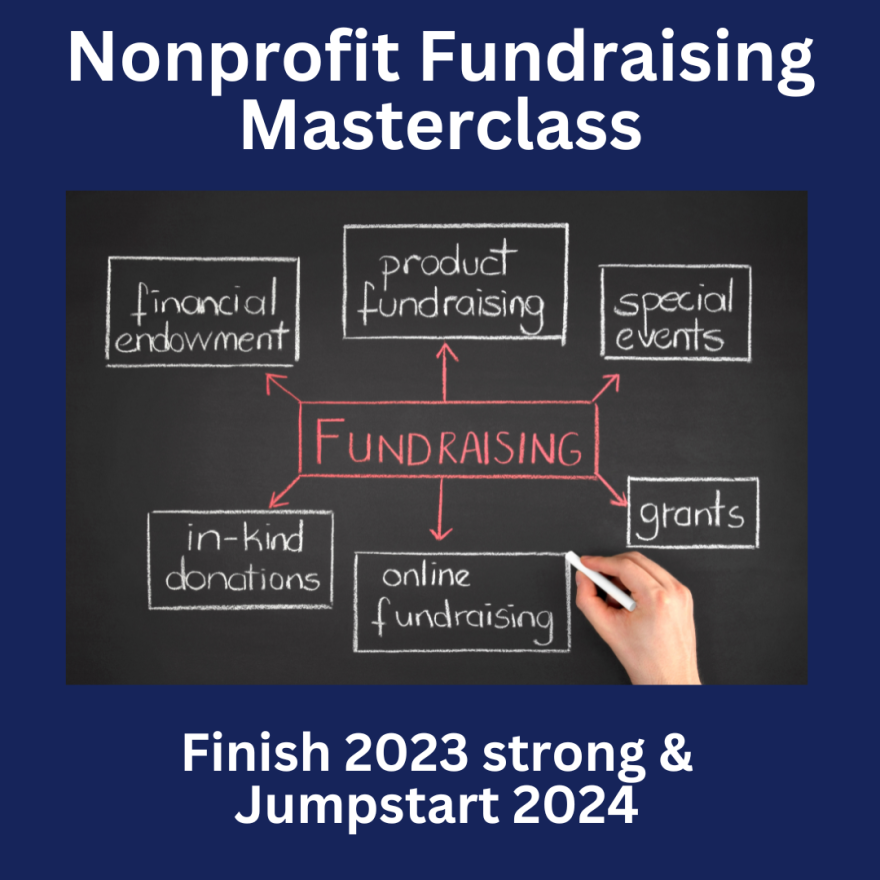 Has fundraising become a frustrating and confusion for you and your organization. There is no doubt that the environment for fundraising has changed and what you have always done isn't providing the results your need today. What if you could ...
Gain clarity on what to do and when to do it.
Get direction to focus on the actions that provide the greatest return
Find guidance to diversify the resources for your organization to meet your need and the ever-changing landscape for support.
Create strategies that help you address the overwhelm and frustration and create a plan for 2024
Do you...
Feel burned out by endless fundraising events that aren't as effective as they used to be?
Get frustrated trying to recruit and manage your board AND then get them to engage in fundraising?
Leave work each day feeling like you did not get anything accomplished and your todo list grew?
Wonder how you are going to keep your organization, and even yourself, sustainable?
Are the expectations growing and the resources dwindling? And feeling like you will never achieve your goals?
It is time to create an environment that allows you to thrive in your efforts and provides the work life harmony of your dreams!
The Nonprofit Leaders Masterclass is designed to help you create a plan, stay accountable to that plan, and help you and your organization thrive.
Nonprofit Leaders Masterclass Labor Day special - Paid in Full $999.00
Take advantage of our Special payment planoffer of four payments of $325 $250 by Labor Day
At the end of the four (4) month masterclass, you will have gained:
Support to navigate the year-end chaos.

A mentor to guide you through the challenges and frustrations you face.

Accountability to follow your plan and achieve your goals

A Community to be there for you however your need them
This Masterclass is for any Nonprofit Leaders or fundraiser who is driven to elevate the fundriaising, but currently feels stuck, frustrated, and worried about their future and the sustainability of their organization. Overwhelmed..... Feeling alone..... Wanting to make a difference...
Does that sound like you? You are not alone.
**Creating clarity and direction for yourself and your organization can be extremely powerful and fulfilling**
And doing this among a community is twice as powerful.
Nonprofit Leaders Masterclass - Paid in Full $999.00
Nonprofit Leaders Mastermind - 4 payments of $250.00
You have worked really hard to get yourself and your organization to where it is today and can't image it not being able to serve your constituents. You worry every day about its future and yours.
But what if it did not have to be that way?
What if when you:
lacked confidence about your role as a leader, you gained clarity and direction from others knowledge and experience

were burned out and overwhelmed, you had accountability to help you ignite your actions

Felt alone, you had a guide and a group of peers to support you
Imagine how different your organization, your work and your life would be.
One of the greatest challenges leaders like you face is knowing when we need help and figuring out how to get it. The Nonprofit Fundraising Masterclass can be that solution as over four (4) months you will have access to:
Three (3) 45-minute Immediate Impact 1-1 Calls to address your specific challenges, questions, and needs

Bi-Weekly 75-minute mastermind group calls where we address a specific topic and then do individual spotlight coaching with members

24/7 access to me for your just-in-time coaching and consulting support through a secure on-line portal for you to journal, get feedback on documents, appeal letters, agenda, etc and direct coaching

Access to a private Facebook page to connect and engage with other members of the group in a secure setting.
**Space is limited and will fill up fast, so signup today, ignite your actions and achieve your goals.**
The total investment for the Nonprofit Fundraisers Masteclass is $1199.00 $999.
If you choose to pay in full by Labor Day, you will receive a $200 discount.


Nonprofit Leaders Masterclass - Paid in Full $999.00
Nonprofit Leaders Mastermind - 4 payments of $250.00