Designing Your 2020 Fundraising Plan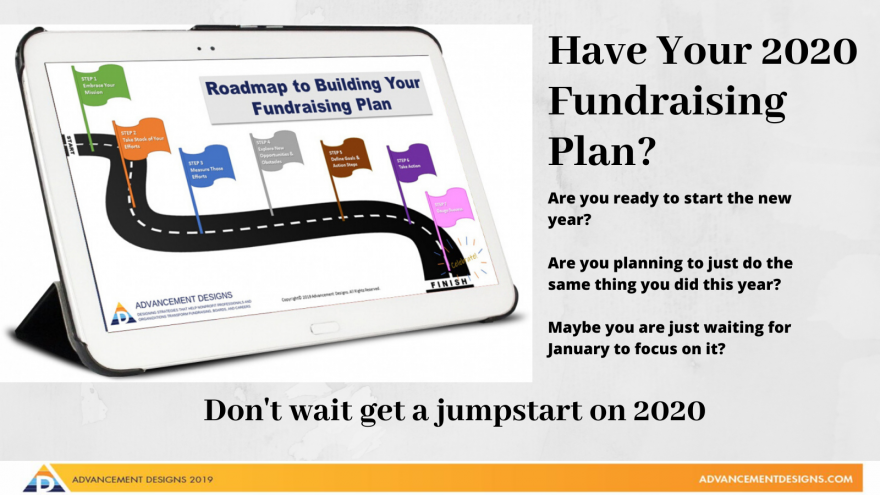 Are you feeling unsure and alone?

Worried about how you will achieve your fundraising goals?

Burned out on Fundraising Events and need new sources of revenue?
Designing Your 2020 Fundraising Plan Workshop
The 8-week guided workshop starts Monday, January 6, 2020 and ends February 28, 2020 .


This 8-week guided workshop will guide you through the steps necessary to design your 2020 fundraising plan!

You will be provided the resources to:
Help you identify what you have done and has it been successful so that you will have greater clarity.
Design the steps needed to prioritize your efforts, including worksheets to get you started.
Focus on those most important activities that will provide a greater return on your efforts.
Develop strategies that will help you go step-by-step to accomplishing your goals.
Have the support you need to get you in a great place to attack the year ahead.
Better understand trends and best practices to provide clear direction.
Do not wait any longer to develop a plan to achieve your 2020 Fundraising goals!
What's included:
8 Week Course

Two (2) 30-minute Individual Impact Coaching Calls (one at the start and end of the program)

3 bonus Immediate Impact Calls for all participants

24/7 Access to Tom through Online Portal

Access to Private Facebook group to connect with the whole group

Additional Resources in the Private Portal

REGISTER TODAY!
Designing Your 2020 Fundraising Plan
Select one option